Smoothed particle hydrodynamics (SPH) builds upon the Navier-Stokes equation which looks as follows:


where v is the velocity, p is the pressure, µ is the viscosity, fext are external forces, e. g., due to gravity, and ρm is the mass density, defined as ρm = ρm, where m is the mass.

SPH approaches the numerical integration of the Navier-Stokes equation by the simulation of particles. Each particle represents a sample in the space that is being simulated. It also carries fluid properties, such as mass, velocity, density, temperature, etc. For our simulation, we associate each particle with a constant mass. We will not simulate temperature or more complex properties. It must be possible to reconstruct the fluid properties for the entire space that is being simulated from the simulated particles. To this aim, the particle properties are smoothed out using a smoothing function W(r,h). The kernel support h can be seen as the area of influence and r denotes the positional difference between two particles. In this exercise we will use three smoothing kernels 1, 2, 3 for the SPH simulation with kernel support h equal to four times the particle radius: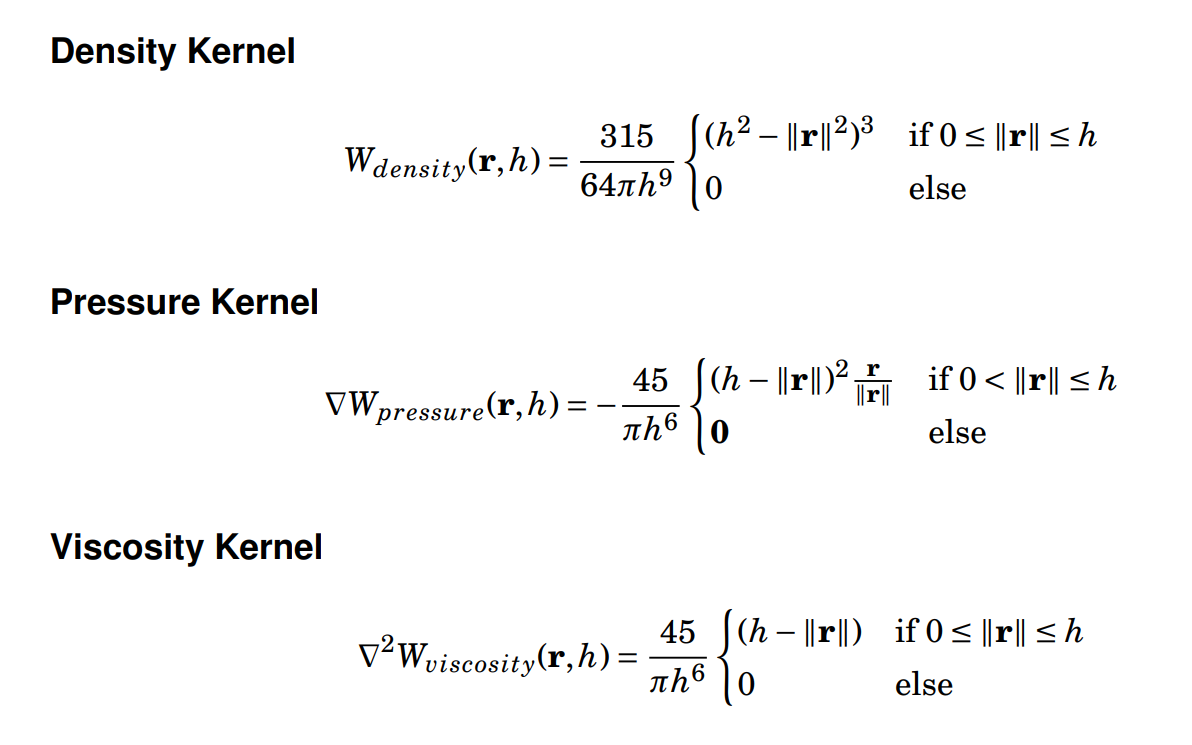 To solve the Navier-Stokes equation, it is necessary to compute the acceleration a particle experiences at a given time step ∂v/∂t and update the particles position accordingly (considering the influence of (v * ∇)v). To this aim, we have to compute the acceleration for each particle as defined on the right-hand side of the equation. We can achieve this by carrying out the following steps:

1. Compute density ρ for each particle
2. Calculate the internal pressure forces fpressure from the densities
3. Compute internal viscosity forces fviscosit y and the dissipation forces fdissipation
4. Compute the external forces gravity fgravit y and buoyancy fbuoyancy
5. Resolve collisions with obstacles
Then, we can perform the integration step by using Semi-implicit Euler integration.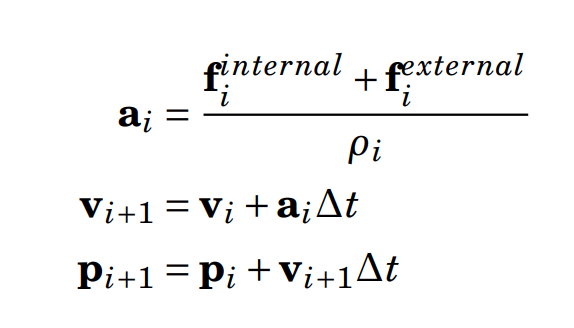 We can then perform the integration step by using Semi-implicit Euler 4 integration: